Authentic Picasso Artwork For Sale
As mentioned I have a few, Limited Edition of professionally hand pulled Marina Picasso Estate Collection Lithographs at valued investment prices.
> Learn more about my pricing to you for a Picasso… < here
Feel free to call me anytime with any questions… Michael Lofton @ 970-335-9580
or if you wish email me… Picasso@PicassoArtForSale.com btw… This is my website of which I set up to place some of the Picasso art pieces I have for sale, without any middleman.
These are pencil signed and numbered by Picasso's heir, Pablo's grand-daughter, Marina Picasso
IMPORTANT NOTE: These certified Marina Picasso Estate Art Pieces 'are not' posters or prints, which are only worth a few hundred bucks at most… These Originals are Hand-Signed, Stamped, and Certified as Limited Edition lithographs!
These limited edition (most pieces average edition were 500 numbered) are the professionally pulled lithographs and are "not" to be confused with the additional in-expensive (cheaper) 'posters/prints' subsequently distributed, which have the 'larger' (stamped) Picasso text at bottom of the posters… those are 'not the real deal' !
The Picasso's you see here 'are the real deal'!
These Estate Collection Picasso's are certified lithographs that were produced from 1979-1982 under the direction of the chromist Laurent Marcel Salinas, in limited lithograph editions of 500.
Each piece has been signed and numbered by the "Collection Marina Picasso," with a embossed ink stamping with certification of authenticity documentation that secures the approval by the heirs of Pablo Picasso…
If you wish to learn more feel free to contact me… Michael Lofton @ 970-335-9580 or email me here… Picasso@PicassoArtForSale.com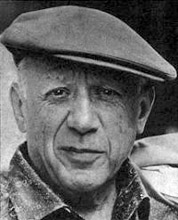 videovdfv quick Certified Pablo Picasso paintings…
To ensure total authenticity, each of these Picasso fine art original hand-pulled lithograph are signed and numbered in pencil by Marina Picasso… Also, embossed with the estate and chromist's seals along with the legend on the reverse "Approved by the heirs of Pablo Picasso".
These rare and highly desirable art lithographs by Pablo Picasso have sold in galleries globally.
These hand-pulled Marina Picasso Estate Collection modern art lithographs have been produced on 100% rag "arches" paper, authorized and approved by the Marina Picasso Estate Collection.
Here's a quick video bio on Pablo…